The official home of the Alert Fire Co. #1



Tower Ladder 701
1972 Mack Baker '75 Aerialscope
5 speed manual transmission with a V-8 motor
Tower Ladder 701 was purchased from Wayne Twp., New Jersey in 1999. They where the single owner of this apparatus. Below lists some of the equipment it carries along with a virtual tour. Just click on the compartment doors and cab for a look into them.
Equipment
- 190 ft of ground ladders
- 6 SCOTT 4.5 breathing apparatus
(6 spare cylinders)
- pre-piped breathing air to bucket
- 4" prepiped waterway to bucket deluge monitor
- (1)ventilation,(2) chain, and (1)K-12 saws
- (2)ventilation fans
- numerous hand tools and pike poles
- stokes basket with rope rescue equipment
- wet/dry vacuum with sponges/mops for overhaul
- roofing materials for overhaul/patching
- several salvage tarps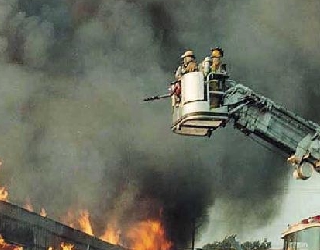 Tower 701 going into service on one of its first assignments, at Wagner Industries, West Mahanoy Township.
view Engine 701 page